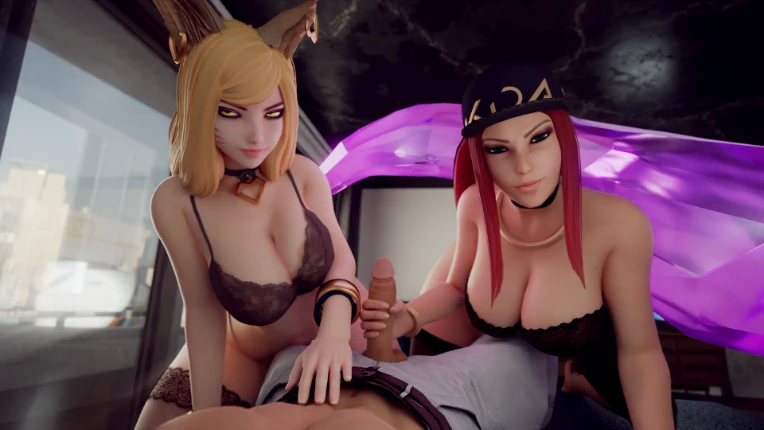 NEXT PROJECT: KDA SEDUCING THE NEW MANAGER.
For those who did not see the end of my last animation (in almost all my animations there is a surprise at the end) I mention my next animation which will also be 6 minutes long.
animation context:
Evelynn and kai'sa went on a photo shoot out of the country and took the manager (Ahri's Boyfriend) with a lot of work and business to do at the KDA office, Ahri and Akali had to hire another temporary manager to take over the band's duties, this is Ethan's story.
Ethan admired the KDA girls and dreamed of one day being part of the band, this time his prayers were heard by his pink bell goddess and fortunately there was a vacant position in the KDA offices where he fit perfectly:
The Manager.
One night Ethan received a call from his friend Dante, who knew the former manager of KDA, telling him that the position was waiting for him.
Ethan took his bags and went to the KDA offices, where he was very well received and it was from here that strange things started to happen.
One day Ethan was walking down a hallway when he heard his name in a door ajar, there were Ahri and Akali talking about him and what they thought about his physical appearance, Ethan stayed listening until Ahri and Akali began to touch each other in a very sensual way, telling each other how sexy they were, until they began to give each other a lot of love ;), Ethan was just watching and experimenting what a real spy was, but this story doesn't end here, something else happened and at the same time very funny (that you will see in the animation) and Ethan ended up having sex with both of them, a happy ending for our protagonist.
I hope you like this animation and share it on many sites, that would help me a lot.
Until next time and have a great day ;)
-Faith Bell